"Finish each day before you begin the next, and interpose a solid wall of sleep between the two." ~ Ralph Waldo Emerson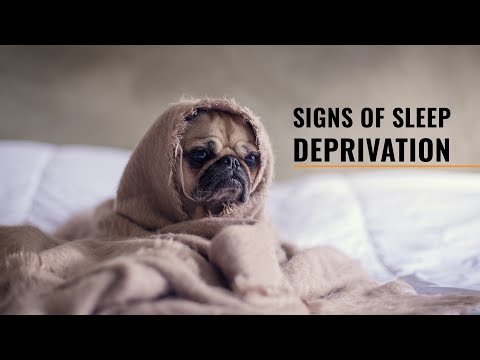 Sleep deprivation is not normal, yet most of us suffer from it.
Sleep deprivation can hinder our ability to think rationally and cope with situations. Sleep deprivation can make us feel groggy, unenthusiastic, and unmotivated.
It is essential to understand the signs of sleep deprivation to understand why you may feel a certain way.
Sometimes we feel "off". Other times, we wonder why we were so happy the previous day and, out of nowhere, get hit with feeling down and depressed.
Here are five signs of sleep deprivation.
Poorer Memory
Reduced Attention Span
Weakened Immune System
Mood Changes
Slower Thinking
Let's unpack each one more below!
Five Signs of Sleep Deprivation
1. Poorer Memory
When we are deprived of sleep, we will tend not to remember things. Memories of experiences and moments from past days will evaporate or fade much more quickly when we are not getting the proper amount of sleep.
This is due to not getting enough Deep Sleep (which mostly happens in the first half of our time asleep) and REM Sleep (which mainly occurs in the latter half of our time asleep).
It is essential to stack out our sleep to get eight hours (including 30-60 minutes of extra time in bed) if we desire a more excellent memory.
For additional tips on improving memory, see our article How Can I Improve My Memory and Remember?
2. Reduced Attention Span
The Sleep Foundation states, "Feeling extremely tired during the day is one of the hallmark signs of sleep deprivation. People with excessive daytime sleepiness may feel drowsy and have a hard time staying awake even when they need to."
When we are tired, our ability to be attentive to conversations and work diminishes. The more sleep deprived we are, the less power we have to function at the optimal level.
The more our sleep deprivation continues, the greater our likelihood of feeling frustrated will occur (not being able to follow conversations or finish our work in a timely manner).
3. Weakened Immune System
When we are deprived of sleep, we are more likely to get sick.
On page 7 of Dr. Matthew Walker's book, Why We Sleep, he states, "Downstairs in the body, sleep restocks the armory of our immune system, preventing infection and warding off all manner of sickness. Sleep reforms the body's metabolic state by fine-tuning the balance of insulin and circulating glucose."
On page 184, he reveals that "A single night of four hours of sleep… swept away 70 percent of the natural killer cells circulating in the immune system, relative to a full eight-hour night of sleep. That is a significant state of immune deficiency to find yourself facing, and it happens quickly, after essentially one "bad night" of sleep."
We must prioritize sleep! ​​
4. Mood Changes
The less sleep we get, the more likelihood we have of being moody.
If we are easily changing our emotional state (even when externals are predominantly remaining the same), we could be suffering from sleep deprivation.
Though this can be due to other factors (such as mental illness), lack of sleep can make us more depressed, anxious, worried, and fearful. Our moods can switch much more quickly.
Even Dr. Matthew Walker states on page 215 of his book, Why We Sleep, "Deprive an individual of their REM-sleep dreaming state, and the emotional tuning curve of the brain loses its razor-sharp precision. Like viewing an image through frosted glass, or looking at an out-of-focus picture, a dream-starved brain cannot accurately decode facial expressions, which become distorted. You begin to mistake o for foes."
5. Slower Thinking
When we don't get enough sleep, we will be slower in our ability to function. Our cognitive awareness will not be as sharp as if we had repeatedly been getting a good night's rest.
This is important to understand because many are pushing through their work. They are going to coffee, supplements, and other aspects to try and help them focus. These can be beneficial, but the root cause behind a functioning individual's inability to think as clearly as they used to can be due to sleep deprivation.
What to Do About Your Sleep Deprivation
We understand what it feels like to not perform at your optimal level. We get how sleep deprivation can sneak up on you and hinder your ability to work and feel your best.
For next steps, we would encourage you to view the following articles on our learning center:
You have what it takes inside you to make a definite choice that will change the future trajectory of your health.
Our team at Tiger Medical has the experience, clinical skills, and coaching acumen to help you get your sleep and energy back.
To talk to one of our professionals, click here to schedule your call!