"Sex is an emotion in motion." ~ Mae West
This question of how to increase libido could be the most critical question to date! As we know, sex makes the world go round in many ways and is an essential part of the human experience.
I recently heard a funny story about a friend experiencing mono (Mononucleosis) symptoms in college. However, he got confused and kept saying, "I think I have low libido," instead of "I have mono."
You can imagine he encountered odd looks when he told his roommates and friends about his ailment.
So when it comes to tango-ing in the sheets and increasing that desire, here are 10-ish ways for Him and Her to keep the bedroom rodeo rollin'.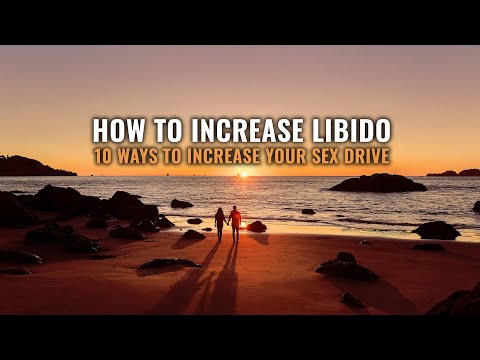 Take A Roll in the Hay
Decrease Stress
Stress can negatively impact the body and sexual functioning/desire for all parties.
Optimize Sleep
Check out more information about sleep from Tiger Medical Institute.
Manage Diet
Not in the sense of eating this specific food as an aphrodisiac (as there is not much research behind this), but what and how we eat can impact our weight, overall health, etc., which can affect our libido.
Movement
It is essential to stimulate your body and move to have more energy for yourself and your partner.
Lifting Weights
Lifting weights can help boost testosterone which is essential for both males and females in libido.
Research has shown that "lifting heavier weights is the best exercise to boost testosterone," says Dr. Jadick of Piedmont Health. "As muscle mass increases, it will trigger the body to produce more testosterone."
Foreplay
A more remarkable dedication or possibly switching up the routine here could dramatically impact the overall experience for all parties involved.
Sex Therapy/Couples Therapy
Talking to a sex counselor could help address many factors impacting desire or bedroom performance. Couples therapy can also address other emotional factors contributing to lower libido.
Smoking
In general, there are very few benefits to smoking. Cutting it out can help increase libido.
Drinking
In one sense, alcohol can help set the mood/ease one into the mood, but consistent use can decrease sleep quality and, in turn, lower testosterone levels over time.
Intentional Mood Setting
Creating time in the schedule and getting away for a weekend or hotel for the night is a great way to boost libido – rose petals on the bed are also a nice touch.
Bonus - Keeping a flexible attitude to spicing things up, in general, can complement many of the suggestions listed above.
Additional Ways to Boost Sex Life
Communicate and listen to your partner
Communicate your wants and needs to your partner/significant other. The other side is listening to their wants, needs, etc.
Spice it up
New positions – asking your partner to spend more time on foreplay and other experimentation with sex toys can help in this department.
Support
Body weight is tied to self-esteem and body image for many people.
If your partner is trying to lose weight, help them along the way. If you know they're an emotional eater, offer them support when they seem upset.
Criticizing their food choices or looking over their shoulder while eating won't foster good feelings.
Be supportive, not destructive.
Tiger Takeaways
There are several reasons why you may be experiencing lower libido and a decreased sex drive.
If that is applicable, it is essential to address those from a physiological lifestyle perspective and an emotional/relationship standpoint.
You can find other recommendations here: