As you research a personalized medical program for your needs, you may be thinking about some fears you have before spending your money, over and above insurance, on a care program that you know little to nothing about.
In this article, I will share the top-five fears that our clients at TIGER shared before joining our personalized medical program.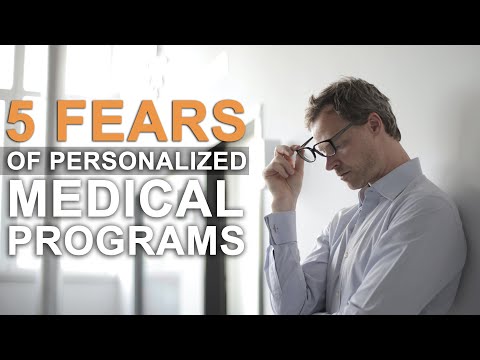 Fear #1: Will I Follow Through and Finish?
This is a common fear that all people express. Typically people will share how they have joined programs in the past and didn't finish. They also worry about the TIGER program, which is a one-year-long program.
This fear is legitimate. We have all done this. Based on our previous clients, I recommend that you not fear this. Why?
The expertise and skill of our team.
We are organized; our systems move you through the process.
We assign you a clinical manager to ensure that all testing is completed promptly.
Your coach holds your hand from the beginning to the end of the program.
Our executive coach and mindset expert help you establish a solid purpose to help carry you through the entire year.
Our doctor takes the time with you to ensure you understand your personalized medical plan and why you need to do it.
Our coaching model and the system is very effective in helping you achieve behavior and habit change.
So, fear not! You will finish.
Fear #2: Your Program Seems Like it Will Take a Lot of Time and Work.
I know you are busy; it's a 21st-century fact of life. So was I when I went through what is today the TIGER program.
The short answer to this question is that it does not take a lot of time daily.
You'll prioritize your time if you value your future health and lifestyle. However, let me break it down for you.
You will spend 20 to 25 minutes per day completing our stress management exercises which will make you feel great, so your motivation for that will be high.
For the first three months, you will have to take some time each week to complete a test which consists of either a home test we're going to a local quest laboratory. You'll also have to come to Seattle to meet your cardiovascular and brain scans.
Throughout the program, you'll have to set up a time 1 to 2 times a month for 30 minutes to meet with your coach based on your preference.
Finally, you'll meet with the doctor half a dozen times to review the results and update them on your progress. Most clients find their time with our doctors to be highly valuable.
To summarize, daily it is a shallow impact in terms of time. The more significant challenge is changing habits rather than being time-consuming, which is more about a daily decision.
Your coach and our team will guide you throughout the process as you establish these new habits and disciplines.
Fear #3: Will the TIGER Program Work for Me?
This is a common fear. Many of our clients haven't been healthy in a long time, so it can be difficult for them to envision any transformation concerning their health.
There are three primary reasons the tiger program works and achieves positive results for our clients.
Our clients bring a conviction and commitment to change, a necessary ingredient in the transformation process.
Our process and our coaching, in particular, reliably get results.
Our science, rooted in research, is a proven system for improving health.
Like a commercial airliner that gets sufficient thrust and speed with the flaps correctly set will takeoff every single time. We have a system that will get great results if followed and trusted because the science is solid.
So, yes, it will work for you. If you bring a desire and a commitment to change, trust our processes,s and put in the work, you will improve and get good results.
Fear #4: It Will Takes a Long Time to Get Results
This isn't necessarily true. Clients who come to TIGER fully committed and jump on our coaching protocols quickly get results in as little as four weeks.
One should expect to see results come in phases. First, our stress management practices yield results in the first four weeks if embraced fully and consistently upfront. Next, our sleep improvement coaching will begin to show up on days 60 to 90 as the sleep disciplines and the accumulated benefit of the stress practices kick in.
After testing is completed, you will see additional gains from targeted supplementation that support your exact weaknesses. How about month six.
Finally, additional gains will surface in months 7 to 12 as you implement the tiger's eight health habits that compound over time as you consistently improve your choices and complete your daily routines.
So, it's not a long wait, but gains come in waves. Remember you spent 20 to 30 years as an adult getting to this place with your health. Success won't be overnight. We are not a program that relies on a pill; we rely on great science and a change in your daily practices.
Fear #5: It is a Large Investment When I Have All These Other Fears.
I must acknowledge that you are correct. It is a real investment. Why is it priced at this level?
It reflects the costs of all the included advanced testing and imaging.
You benefit from a highly credentialed, an experienced medical professional with unique skills.
You will be working with a highly trained coach who will be your guide for an entire year.
The results are priceless.
Personalized, custom medicine is leading-edge science; insurance doesn't reimburse, so costs are not spread over millions of people. You are strategically choosing to make yourself patient number one in your life and practice self-care.
What is more incredible energy, less stress, and better sleep worth to you?
What is finding hidden health threats and a personalized health plan to attack them worth?
What is determining your risk for Alzheimer's and dealing with it ahead of time worth?
When we spend money on expenditure with no expectation of return beyond the current moment, that is something we call a cost. When we spend money on something that we expect a future return on, we call that an investment.
Purchasing a personalized medical program is an investment that will pay priceless returns for many years. Make a significant investment one time in your life for the rest of your life!
Click HERE to learn more about how Tiger's personalized medical program works.